Energetic and talented, LandArt offers a range of gardening services depending on the project. We have a real appetite for what we do and ensure every job is delivered with remarkable service and pride.
Fully accredited member of the Garden & Landscape Designers Association (GLDA)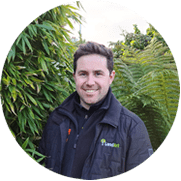 Dean Lacey
Owns and operates LandArt Ltd.
Dean Lacey owns and operates LandArt Ltd. (company no. 639532) and is an award winning landscape designer and gardener. He studied at University College Dublin where he graduated with an Honours Degree in Landscape Architecture. Dean is a fully accredited member of the Garden & Landscape Designers Association (GLDA).
After university Dean spent the next four years working in a Dublin landscaping firm gaining experience in garden design, garden construction and landscape maintenance. During this time he was awarded three medals, two gold and one silver for the medium and large sized garden designs at the Bloom Festival and Garden Show in Dublin.
Subsequently Dean moved to Sydney Australia where he spent the next 4 years working on some of Sydney's finest harbour side gardens, experiencing new landscaping ideas, techniques and planting styles which he likes to incorporate into his designs.

After working as a landscape designer and landscape gardener for years in high-end landscaping firms, Dean satisfied his lifelong dream to start his own business and as a result LandArt was born.


Questions & Answers with Dean
Qualifications and experience?
I achieved an honours degree from UCD in Landscape Architecture & worked alongside a prominent Garden Designer in high end and prestigious gardens. From 2010 to 2014, I worked in Sydney, Australia, designing and building high end gardens. I set up my own company, LandArt, in 2014 and we provide garden design, garden construction, planting design and garden maintenance. I successfully completed my Garden and Landscape Design
Association (GLDA) Portfolio Assessment and I am now a fully accredited member.
Career highlights?
Setting up my own successful Landscape Design and Landscaping Company &
Winning Gold in medium category 2009 and Gold in large category 2010 silver medal in large category in Boom 2008.
Design Style?
My gardens would be considered quite contemporary, but I do love all design styles and themes.
Solo, team, collaborative?
Design and build are a team effort. I am very fortunate to have an amazing team of designers, landscapers & horticulturists, who are as passionate and dedicated as I am.
Unique Selling Point?
Only one phone call needed and we will look after the whole project! We design, build and maintain gardens so I can offer everything in-house, from the initial consultation, the garden design, the complete build, project managing the build and even maintaining the new garden for years to come.

Selling your work?
My clients will usually study our website and Instagram in detail and read all our 5 star Google reviews. They contact us because they really like the high standard of our work and understand that the whole experience will be enjoyable and hassle free. But I love to get in front of my clients and my enthusiasm and my passion for my work is what sells my designs.

Handling client expectations?
We have a robust set of tried and tested systems and processes in
place, so our clients are always very clear what to expect along the journey. Discussing budget at the onset and regular communication is key.
Favourite garden and Garden Designer?
Every year in May we go as a family to Mount Usher gardens in Wicklow. Favourite designers: I love the work of Luciano Gubbili and when I lived in
Australia I was, introduced to the amazing work of a garden designer called Paul Bangay.
Recently completed projects
We would love to speak to you about creating your perfect outdoor space, so get in touch today
Fully accredited member of the Garden & Landscape Designers Association (GLDA)