Garden Design Trends are continuing to evolve and refine. We know so much from our collective time restricted to the home how essential our outdoor spaces are to us, so it is no surprise that Wellbeing and Sanctuary are big trends for the coming year.
There has been a definitive mindset change that gardens are important not just for us but also for nature, and for both to belong & thrive in the space. As the sustainability agenda grows globally so does the focus on 'Urban Nature', finding ways to bring nature into urban settings. This is influencing everything from our planting & screening choices through to our material palettes. We are seeing the textural qualities and material honestly as more important than ever for Landscaping decisions.
Many of these elements come together when handled as an overall composition, ensuring your Garden Design performs as a Multi-Tasking Space with character and substance.
Let us show you what this looks like in practical terms & how these themes are brought to life.
Wellness Gardens & Sanctuary
There is a growing acknowledgement that our gardens & time outdoors can be instrumental in aiding mental health and general wellbeing. This has become familiar & popularise through the Japanese promotion of medicinal 'Forest Bathing' and growing interest in Horticultural Therapy. The benefits of planted environments and Wellness Gardens are being embraced whole heartedly and can be seen in the uptake of:
– Yoga Decks
– Water Features
– Outdoor Showers
– Swim Spas
These elements help us to carve out calm & restful areas in our outdoor spaces. Selected planting ensures a soothing backdrop to these garden features; lush tropical planting creates a quiet & tranquil environment. Privacy is essential to creating your Outdoor Sanctuary. Screening trees, Espaliers & hedging ensure there is no intrusion on your privacy. While water feature ensure that the noise of the world & the everyday life recedes.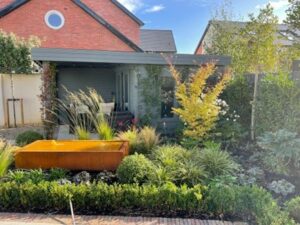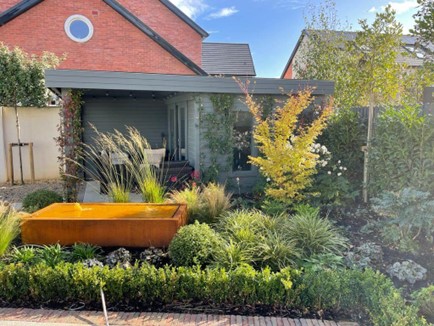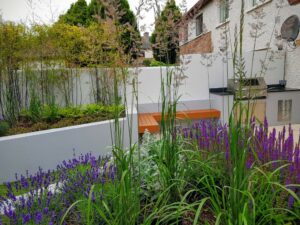 Multi-Tasking Spaces
Despite Ireland being a sometimes-wet little country we are seeking to spend more time in our gardens, more time outdoors. By having our gardens as Multi-Tasking spaces it allows us bring Indoor activities Outdoors. Good design will define zones & proportion your space appropriately, providing the solutions for multiple activities. At LandArt we ensure the design of your space is based on your needs and lifestyle, with an emphasis on sculpting clearly defined spaces, of distinct function & personality. We create spaces that are used to their full potential.
Correctly orientating your main seating patio is essential, but correctly locating an evening area can be what adds the extra character and use to your garden. Find the spot that catches the last of the setting sun, enclosing this area, even slightly, can shift the atmosphere & by introducing a fire bowl lengthen the evenings indefinitely.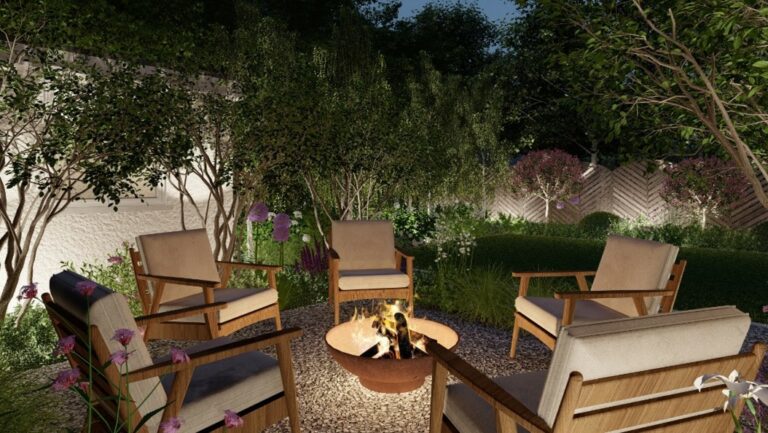 A Dining Area usually will want to be within close proximity of the kitchen, but if your considering an Outdoor Kitchen or BBQ Area you can create a whole new space for cooking & entertaining, independent of the house.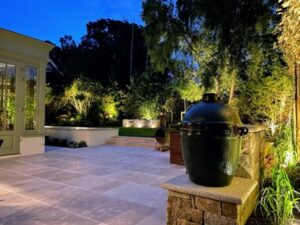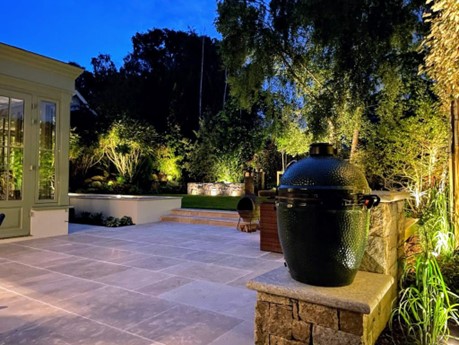 Likewise for Garden Rooms, when integrated into the garden as part of an overall design & planting layout they can add a whole range of uses to your outdoor space -from home offices to secondary sitting rooms, games rooms to gyms.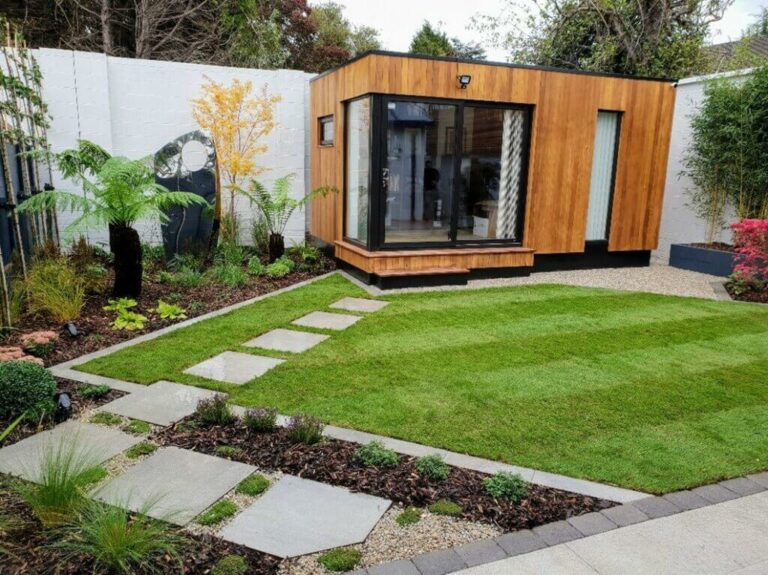 Urban Nature
With many of us living in Suburban settings it can be challenging to imagine how we can meaningfully contribute to the needs of biodiversity and play our part in ensuring habitat for wildlife. This is to be the prevailing theme for our lifetime. The Showcase Gardens of Chelsea 2022 tasked themselves with providing inspiration to City Dwellers & finding ways to bring nature into urban settings.
There are some key ways to ensure that our own plots be a valuable contribution. Even in smaller space gardens and compact area there is a need for pollinator corridors & nesting grounds. By working with nature we can incorporate an abundance of pollinator friendly & edible plants within our gardens.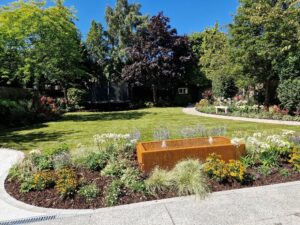 Native plants that benefit wildlife work seamlessly within well designed spaces. As mentioned above, they help to nourish our mental wellbeing & also provide a food-rich habitat for wildlife. This can be achieved by the specification of trees, the selection of pollinators & groundcover to ensure year round habitat.
For example we have wonderful Native evergreen options in Ireland. Screening solutions such as Ilex Aquifolium Holly can be sourced as Topiary & Espalier, Native hedging choices range from berry rich Taxus Bacata Yew to early- flowering Crateaegus Monogyna Whitethorn. But lets not stop there, to really immerse in nature Edible Landscapes are really what connects us back to nature Native mix hedges planted with nut producing Corylus Avellana Hazel or the once familiar RoseHip of Rosa Ragosa provide foraging opportunities. We all know the surge of interest in Grow Your Own, this can be integrated through your planting scheme as much as an all-or-nothing approach of dedicated raised beds. We have incredible variety in our fruit producing trees, Cherry, Apple & Pear varieties can be as productive as they are ornamental. The same goes for Prunus Spinosa Blackthorn Tree (anyone with a taste for Gin may be familiar with these incredible little Sloe Berries magic) or for the younger ones the Sambucus Elder Tree laden with its early summer Elderflower for fresh cordial.
All of these can contribute to 'Green Construction'. Defining space & creating separations while greening. A default would have been to place walls or fences, but more and more we are looking to Green Construction, living structures, hedges & woody shrubs to partition areas and create a sense of intrigue throughout a space. This approach works with any style, from more formal pruned tees to looser plantings.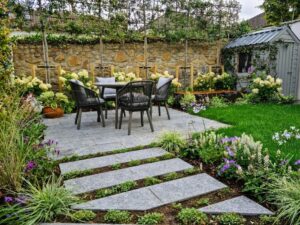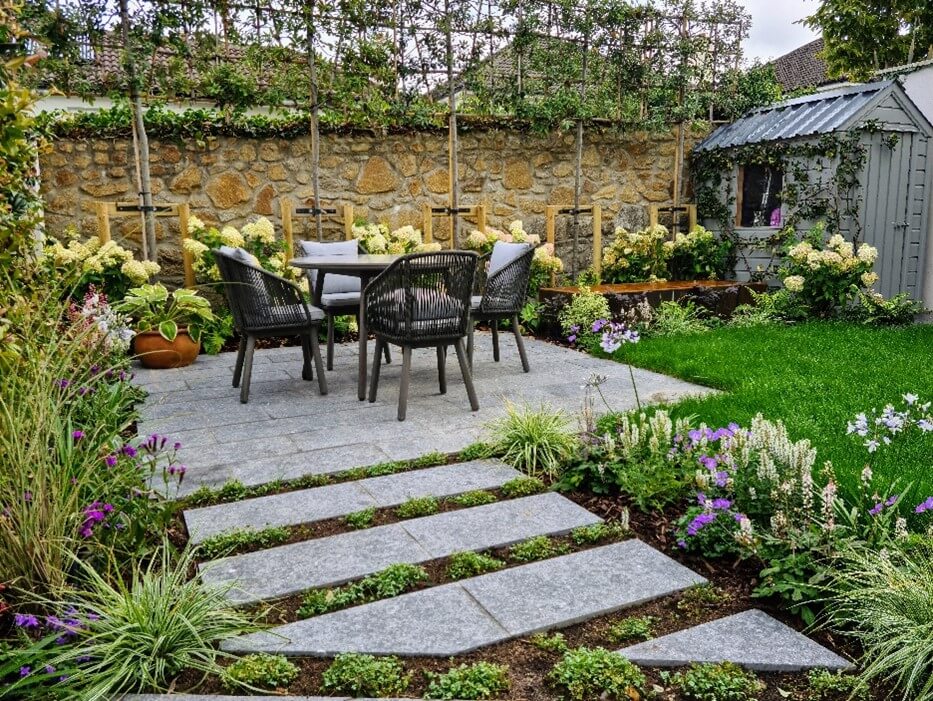 Planting Styles for 2023
Green on Green:
A contemporary look is still being favoured through 2023, this means topiary planting & good structure. Green doesn't have to be a background colour anymore; it can be the primary colour. Work with your plants to create texture with Foliage.
Loose Natural Planting:
This lends itself especially well to Prairie Style planting with grouped perennials and flowing grasses.
The Pantone Colour of the Year is 'Viva Magenta' a rich & vibrant pink that will give a punch of colour to the jewel tones so popular with country classics like Salvia's, Foxgloves & Lupins.
Architectural Planting
Architectural style planting is set to stay. This minimalist approach of well-structured block planting makes strong  use of ornamental grasses, much more linear in its handling than a Prairie Style.
Layering Textures
One of the most striking additions to your planting scheme will be the material choices. This year is all about the Textural & the Tactile.
We have seen a number of years with preference for Porcelain tiling and synthetic materials. Whereas we now see a resurgence in appreciation for Natural Materials. The warm-grainy quality of Sandstone slabs, coarse Granite cobble or chalky Donegal Quartz pebble are coming to the forefront of Garden Design.
The patina of Decorative Screens, features and lighting fixtures are all in focus.
To create a statement Focal Point concentrate on richly toned tactile materials, think rust tones & raw textures:
Coppers
Corten Steel
Timber & solid furniture
Salvaged materials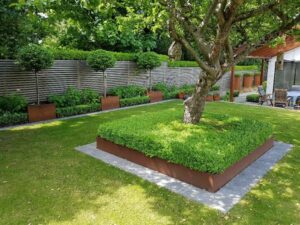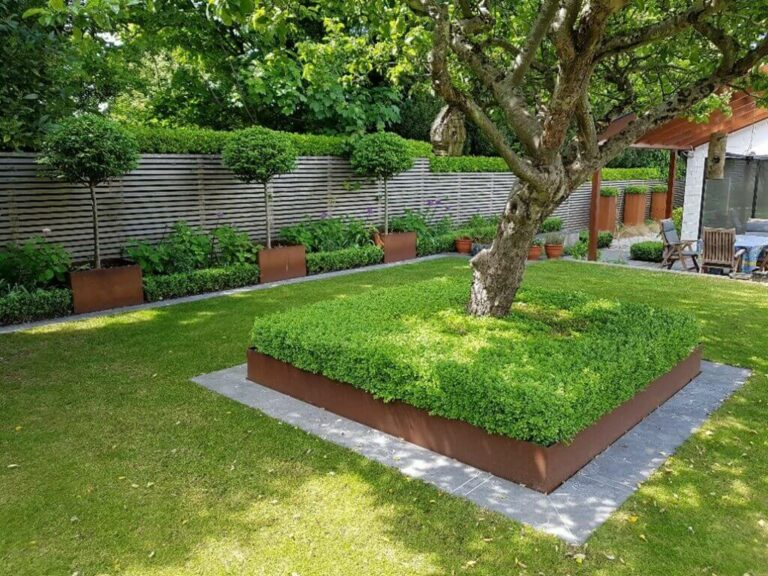 By giving careful consideration to each of the above you begin to create a true Sensory Garden. One that involves all your senses and makes sense as a living space.
The sight of colourful harmonious planting, rich fragrance for yourself & the bees, the sound of rustling ornamental grasses or flowing water, the sensation of natural textures underfoot or touch of a special water feature and lastly the taste of an edible landscape.